Built-in Features in Food Delivery Apps to Boost Businesses
Food delivery is one of the fastest growing trends in the food industry. It is something not only startups think of, but individual restaurants and restaurant chains, but even grocery stores! This can help you attract a new audience of people who love to do everything with the help of their mobile devices.
Additionally, mobile app can also help your employees by giving them directions, setting delivery times, changing orders, and opening a whole range of possibilities to sync all steps of the delivery process. Want to create your own food delivery app now? Let's see how to do it.
Yangon Mobile Apps is the Best Online Food Delivery Mobile Apps Development Services Company in Yangon. As a top restaurant app development company, we design and develop online food ordering applications. More so, our developers are equipped to create clone app to help you with the best possible on-demand food delivery apps such as Uber Eats, Zomato, Swiggy, or Guruhub. We provide the Best On-Demand Food Delivery App Development Solution in Yangon and other parts of Myanmar.
Interested? Hire a Top Restaurant Apps Developer and Food Apps Developers in Myanmar and get it at the best price.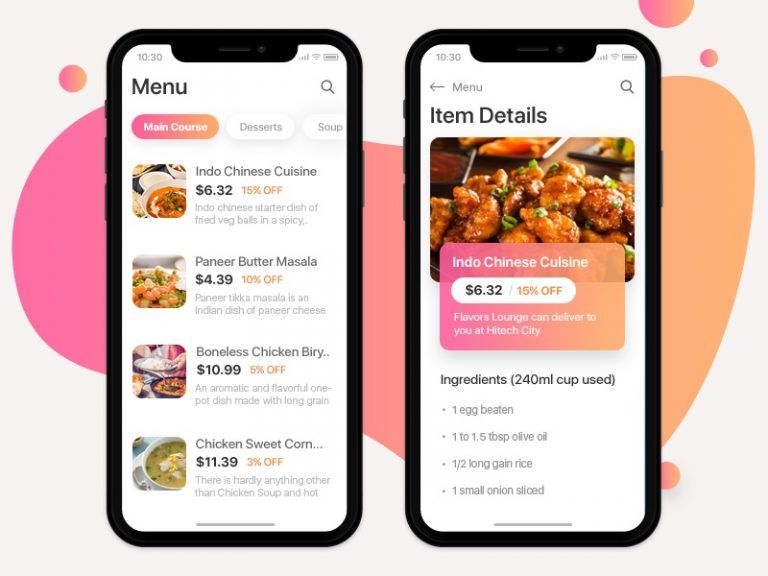 Our features
Food booking apps branded for your company, dispatching software, and fleet management system.
Customer App
The user interface is probably the most important part of the application for customers. Thus, your application has to look nice and according to the latest trends.
1. Personal Profiles
Signing up is the first thing your customers will need to do before placing an order. So to speak, information about favorite restaurants and recent orders can help customers to make instant orders or repeat orders in one click.
2. Search and Menus
You need to let users search by restaurants, dishes, delivery time, geolocation, and find restaurants nearby.
3. Delivery Time and Real-time Tracking
This feature can be implemented with the help of machine learning which can estimate delivery times based on a large amounts of data including distance, average time for food preparation, and size of the order.
4. Payments
Easy checkout is one of the key stages in the ordering process.
5. Ratings and Reviews
Get feedback from your customers and make improvements according to it. Surely, users need to know that their comments matter.
6. Push Notifications
Push notifications are a great way to get in touch with customers and inform them about delivery status, new offerings, discounts, and much more…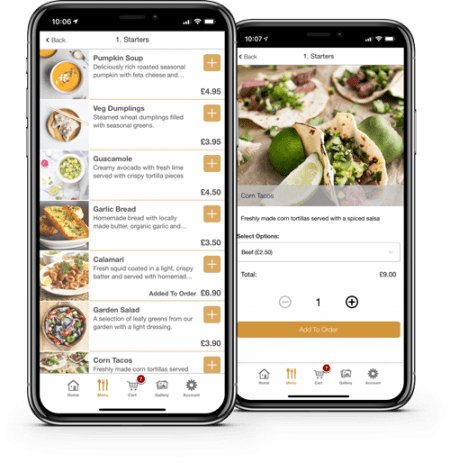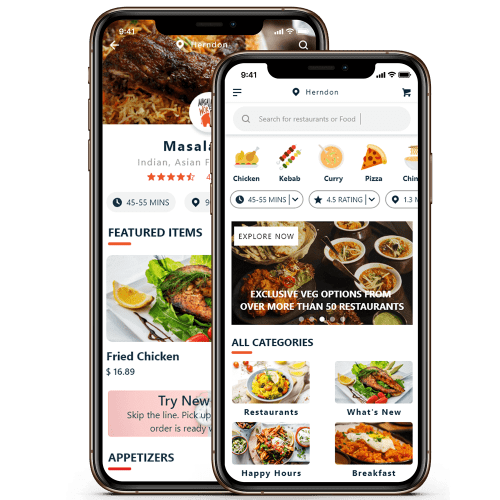 Restaurant App
The restaurant app is very different from the other two apps. Firstly, it's a web app with its own particular features.
1. Admin Panel
This is the most important feature for a business owner. The admin panel allows business owners to look through orders, gather statistics, and change any information about restaurants.
2. Personal Profiles
Just like in the other apps, the restaurant app needs profiles so that workers can have access to the panel.
3. Content Management
You can change all kinds of information like locations and working hours. You can also upload pictures and change menu content, including prices.
4. Order Processing
Allows the owner and workers to see all orders, including current and previous orders. Detailed information on each order is also provided.
5. Receiving Payments
This feature allows you to receive payments directly from customers who have confirmed their orders.
High-power technology stack for your
Food Delivery Apps
Our technology has it all so you don't need to spend time explaining your business needs to inexperienced mobile app developers.
// Boost Your Business with Smart And Effective Apps.
Need a cost effective mobile app that people love to use?Hire our professional team to get your project done efficiently.